The Libyan Conflict through the Lens of Very High Resolution Satellite Imagery
Very High Resolution Satellite Imagery at True 30 cm can provide crucial insights for geointelligence (GEOINT) during conflict. It can act as a source of truth, predict conflict hotspots and verify ground activity in near real-time. European Space Imaging partnered with reseller Geo4i to investigate the current ongoing Libyan Civil War.
The second Libyan Civil War has been a complicated ongoing conflict since 2014 between the internationally recognised Government of National Accord (GNA) and General Khalifa Haftars eastern based Libyan National Army (LNA). In 2019, the conflict from this ongoing war heightened and at the centre of it was the control of three major airbases, Al Watiya, Al Jufra and Al Khadim. These important hubs act as Forward Operating Bases (FOB) as well as a main link between the foreign countries who are currently involved in the conflict and the already troubled region of Sahara.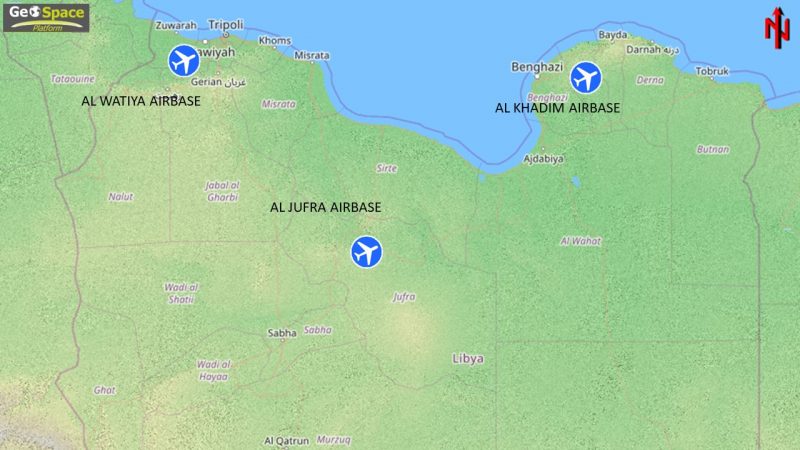 With differing reports in the media from the conflicting parties, Very High Resolution (VHR) Satellite Imagery can be used as a source of truth. Satellite images are more than just mere pixels, experts can unlock intelligence from the images to determine activity happening on the ground in near-real time. When compared to historical data taken over the same site, it is possible to detect changes on the ground imposed by combat and to predict conflict hot spots. Regular monitoring of the conflict is necessary to understand the evolution of the war the impact this will have on invested countries across the world.
European Space Imaging, through their ground station at the German Aerospace Center (DLR) are monitoring these war torn areas with the WorldView constellation on a daily basis and have partnered with experts in geospatial intelligence, Geo4i, to analyse the imagery.
In recent months both parties have received considerable support from outside countries with their own political and economic agenda's. The UN-backed GNA has the support of Qatar, Italy and Turkey. Turkey, in defiance to a UN's arms embargo, signed a treaty in November last year in return for Libyan permission to access Mediterranean gas fields. It has been supplying military support to GNA, including the supply of both drones and Syrian mercenary forces as a result of Ankara's desire to secure its energy supplies.
In May 2020, after six years under the control of LNA, the Al Watiya Airbase was taken back by the GNA with the support of Turkey. Turkey's strategic involvement in resecuring the site, and thereby gaining control over the air space, was clearly guided by their need for Ankara to build their own airbase at Al Watiya. This would allow the country access to the significant oil and gas reserves of the country and further solidify its position in the Southern Mediterranean region. Following this victory, GNA now controls most of western Libya.
Satellite Imagery captured with WorldView-2 on 10th June 2020, does not show any visible activity of construction having begun by Turkey at the Al Watiya Airport. However, the lack of significant presence and aerial operations does suggest that the airbase has been secured by Turkey. When compared to historical data over the same area, it is clear that significant areas of land have been cleared and parts of the north-east dispersal area appear to be active. A building has been refurbished to include 6 parabolic antennas for communications, additional defensive protection has been erected and the runway is partially non- operational.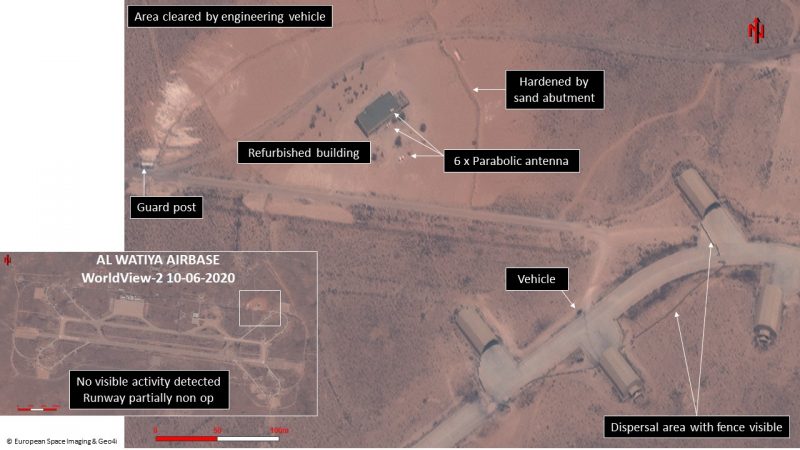 Strategically placed in central Libya, the Al Jufra Airbase is controlled by forces aligned with the LNA and has served as the main air and logistics hub for the army's advances into western Libya as well as a launching point for the Tripoli defensive. Support for LNA comes from Egypt, United Arab Emirates and Russia. In May, the US accused Russia of sending warplanes to Libya to support General Khalifa Haftar, specifically Soviet-made MIG- 29 and SU-24 aircrafts to bolster the army's efforts.
In satellite imagery of Al Jufra captured on 13th June 2020 with GeoEye-1, there were no signs of either MIG-29 or SU-24 present on the airbase, as previously observed. Despite this, the imagery did highlight a strong Russian presence (through the Wagner Group) at the airbase. Several Russian made operational combat vehicles are easily identifiable including SU-17/20/22 Fitter and MI-24/35, as well as training vehicles L-39 Albatros and transport vehicles MI-8/17. The presence of these vehicles at the airbase suggests that Russia are "conducting basic flying, working on proficiency and gathering situational awareness" said US Air Force Col Christopher Karns, head of ARFICOMS public affairs office.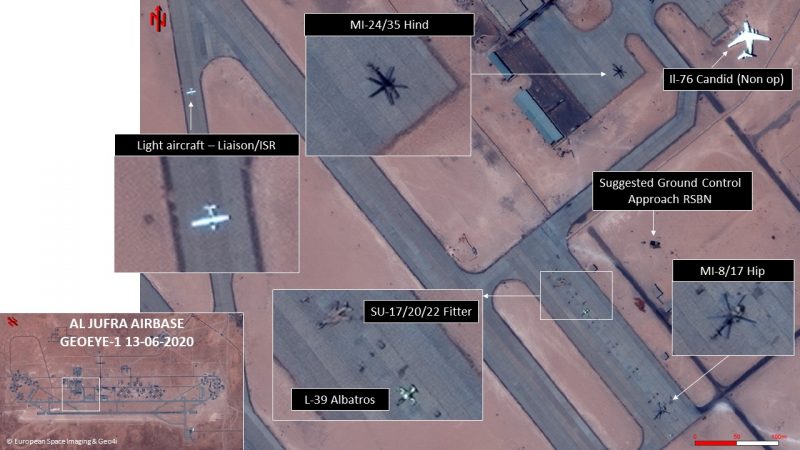 There appears to be an area under construction in the vicinity of the navigation aids (2D EW P-18 / Spoon Rest and GCA) covered by tarpaulin to conceal the structure from overhead imagery. Analysts at Geo4i proposed that based on the proximity to the Spoon Rest and size of the concealed area, it could suggest a Ground Control Approach.
Ground activity in the form of several vehicles located next to the north and south dispersal areas parked alongside the aircraft hangars can also be observed. When compared to previous imagery taken just days prior, the number of tents and military vehicles have dramatically decreased indicating that the number of personnel at the airbase has significantly reduced.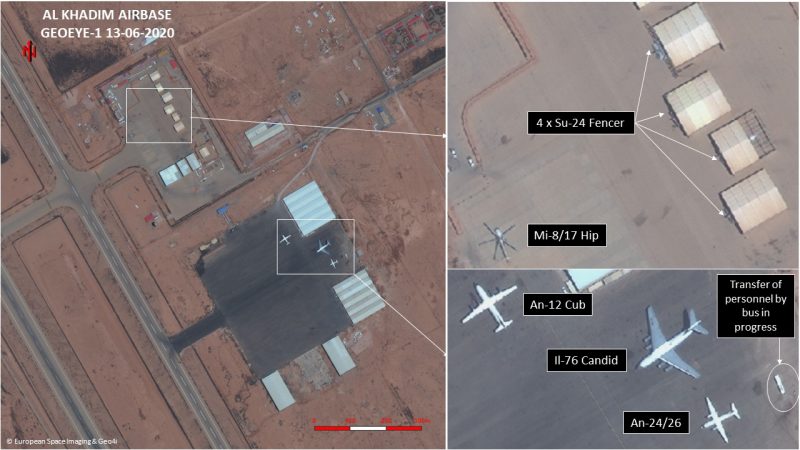 Libya continues to be a major economic and political hub for the Mediterranean due to its oil and gas exports and is drawing increased attention from other countries who seek to benefit from the ongoing civil conflict. The loss of Al Watiya airbase to GNA was a major setback to the LNA who used the base as an important defensible position in western Libya as part of their yearlong attempt to take control of Tripoli. This victory by GNA will enable Turkey to expand air operations in their support of GNA. In addition, the recent series of defeat faced by LNA at the hands of the GNA make it highly possible that the LNA will lose the civil war in Libya.
European Space Imaging will continue to acquire satellite imagery over these areas to monitor the ongoing battle. The team at Geo4i, comprised of former intelligence analysts from the French Ministry of Defence (MoD), will provide expert analysis of the imagery. Through their collaboration, the companies are providing independent and accurate Military Situational Awareness (MSA) in various locations around the world.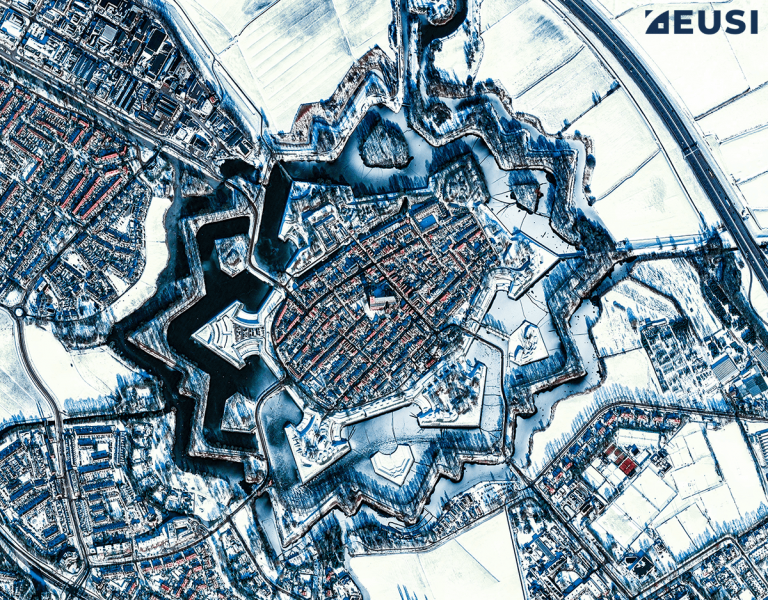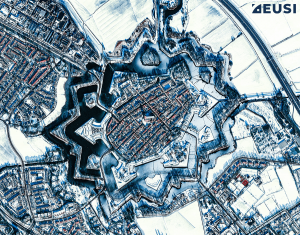 Star forts are not only perfect examples of effective military engineering; they are also beautiful. Let's join us on a fascinating journey through architecture and history – from space. All satellite images in this article were collected by WorldView-3, WorldView-2 or GeoEye-1 at 30–50 cm resolution.
Read More »