Satellite Images Unveil Completed Chinese Military Fortresses in Spratly Islands
Recent satellite images supplied and analysed by European Space Imaging reveal the illegal construction of military bases in the contested Spratly Islands along the South China Sea are complete.
Images provided at 30cm resolution by DigitalGlobe satellite WorldView-3 refutes China's promise to not militarise the artificial islands it has built in the South China Sea. Mischief Reef and Subi Reef are just some of the islands that show strong military construction.
From examining the satellite images of Mischief Reef we can identify a large deep-water port which also serves as a blue water naval base. There is a 2,700 meter runway on the Western quarter and since there are no passenger terminals or hotels visible, this airfield can only be described as a Joint Use naval airport, signifying its military connection.
Furthermore at the North-West quarter of the island, a combination deep-water port and blue-water naval base is clearly detectable. The quay is linear without warehousing however cargo is visible on the quay. Military barracks, communication antenna's, underground POL storage tanks and control towers are all visible in the images collected.
SATELLITE IMAGES OF MISCHIEF REEF
"The overwhelming power of 30 cm resolution combined with the access and re-visit times over an Area of Interest (AOI) means change can be monitored safely from a distance. This is especially true in the case of the Spratly Islands, where the airspace around the islands is highly protected and airbreathing reconnaissance is difficult to get near/over the different AOIs. This makes the obtainable 30-cm high-resolution imagery and frequency to revisit so vital for world security" said Senior Advisor of Analytics, Randall Carlson of European Space Imaging.
Military bases require buildings for billeting and as a rule an athletic facility for the personnel. Across all the images supplied by European Space Imaging several buildings complete with basketball and tennis courts along with a full track and football fields can be seen. This can only mean that the Chinese military plan to populate these islands at some stage.
China boasts the largest military in the world with 2.2 million personnel and has one of the most technologically advanced air forces. Yesterday the Chinese air force made public for the first time a deployment of advanced fighter jets for a "joint combat patrol" over the South China Sea. With each of the satellite images supplied by European Space Imaging, aircraft hangars, airfield operations, refueling lorries and landing runways are clearly visible on the islands which leads to further speculation regarding the purpose of these islands and proposed combat patrol.
"The power of 30 cm resolution is undeniable for the defense and intelligence sector. In these images of the Spratly Islands we have been able to verify several identifying factors that could prove critical to a military operation without the risk of detection or on-ground personnel" said Managing Director Adrian Zevenbergen of European Space Imaging.
SATELLITE IMAGES OF SUBI REEF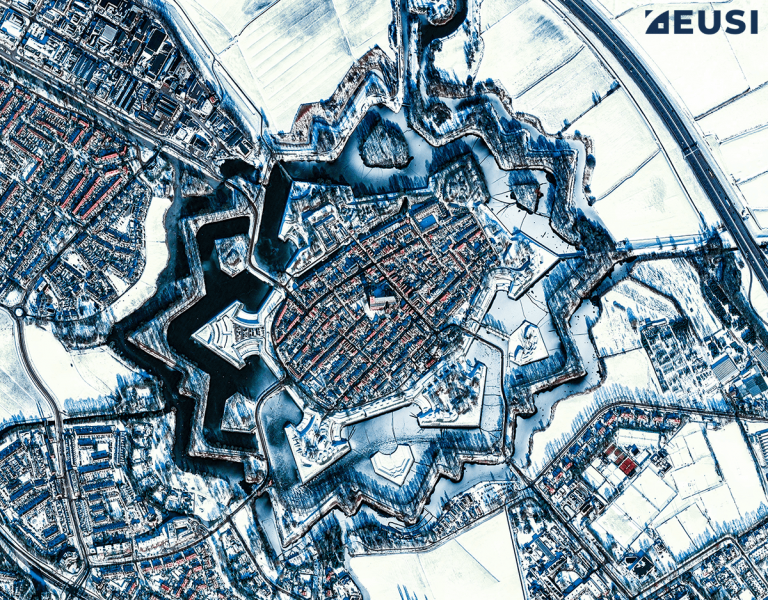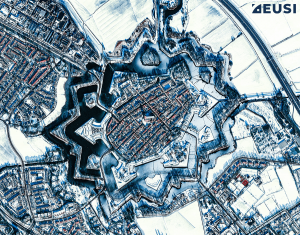 Star forts are not only perfect examples of effective military engineering; they are also beautiful. Let's join us on a fascinating journey through architecture and history – from space. All satellite images in this article were collected by WorldView-3, WorldView-2 or GeoEye-1 at 30–50 cm resolution.
Read More »