HOW 8-BAND MULTISPECTRAL VHR SATELLITE IMAGERY SEES THROUGH SMOKE IN MEDITERRANEAN FIRES
As forest fires tear through multiple nations around the Mediterranean Sea, European Space Imaging (EUSI) is aiding emergency responders with rapid delivery of Near Real-Time (NRT) 8-band multispectral satellite imagery. While other satellite imagery providers collect 4-band multispectral imagery, EUSI offers the only 8-band Very High Resolution (VHR) satellite imagery in Europe and North Africa. Collected using the Maxar Worldview-2 and WorldView-3 satellites, the additional multispectral bands allow users to see through smoke to better analyze where fires are currently burning and what damage has occurred.
There are countless applications using multispectral imagery to see beyond the capabilities of the human eye – including vegetation analysis, methane mapping and material identification. EUSI is the only satellite imagery provider in Europe able to collect imagery at 30 cm resolution, with 8 multispectral bands or with 16 SWIR bands at 3.7 m resolution. This gives users a distinct advantage, not only for experimentation and creating new solutions but also to address current real-world questions like:
Is there excavated material from the construction of an underground facility?
Will the health of the crops in this area provide food security?
Are illicit crops being grown?
Is this location suitable for a beach landing?
Have reinforcing materials been applied to this facility?
Has equipment been camouflaged from view?
Is this material steel, polymer or paint?
Are there significant features that might otherwise be overlooked?

Chart displaying the spectral bands available from EUSI.
Seeing Fires With 8 Bands vs 4 bands
Emergency responders are no strangers to satellite imagery and the derived maps in the hours and days following disasters. Forest and wildfires are no exception. Often, the only way to get a clear view of the situation is with a satellite as airplanes cannot safely fly over the burning fires, and even if they could, the large affected areas are able to be covered in a single easy-to-use image from a satellite instead of thousands of stitched images from aerial imagery providers. A satellite imagery provider like EUSI can task the satellite to collect the area of interest and deliver the imagery in as little as 15 minutes for critical decision-making.
Some satellite providers deliver imagery using Red, Green, Blue and Near-infrared (NIR) bands. This type of imagery is often used for vegetation analysis and can be helpful for mapping the post-event destruction of a fire. 
The distinct advantage of 8 bands (Coastal, Blue, Green, Yellow, Red, Red Edge, NIR1 & NIR2) is that not only can the user see burned vs healthy vegetation, but also by utilizing the longer wavelengths of the NIR spectrum you are able to penetrate haze, light fog, smoke and other atmospheric conditions better. To see through the smoke in the images below, we used the NIr2, NIR1 and Red Edge band combination – one that would be impossible for 4-band imagery to display.
Greece is facing devastating summer wildfires, exacerbated by climate change, making the fires increasingly vast, fast, and difficult to control. Fires have occurred in Rhodes, with a new blaze near the village of Vati threatening the village of Gennada. The firefighters have requested urgent help as the flames, reaching meters in height, are spreading rapidly. In Corfu, the village of Loutses has been evacuated as a precaution due to the rekindling of smaller fires. Firefighting operations are underway on both islands to combat the ongoing fires. Another fire in the Attica region of Greece, near Kouvaras, burned 34,724 hectares. The information was obtained through satellite data from the European Union's Copernicus service. Before being brought under control by firefighters, the flames had spread to some areas in eastern Attica, such as Lagonisi, Saronida, and Anavissos.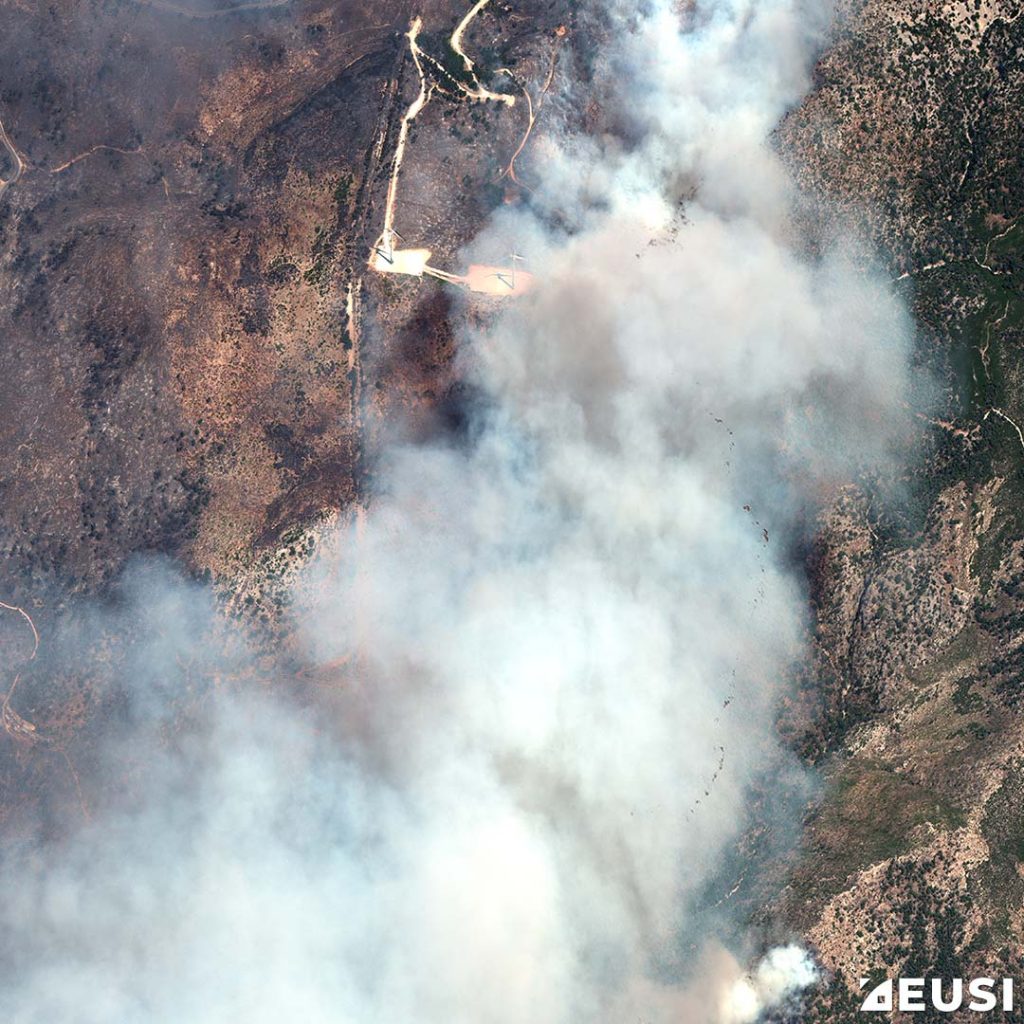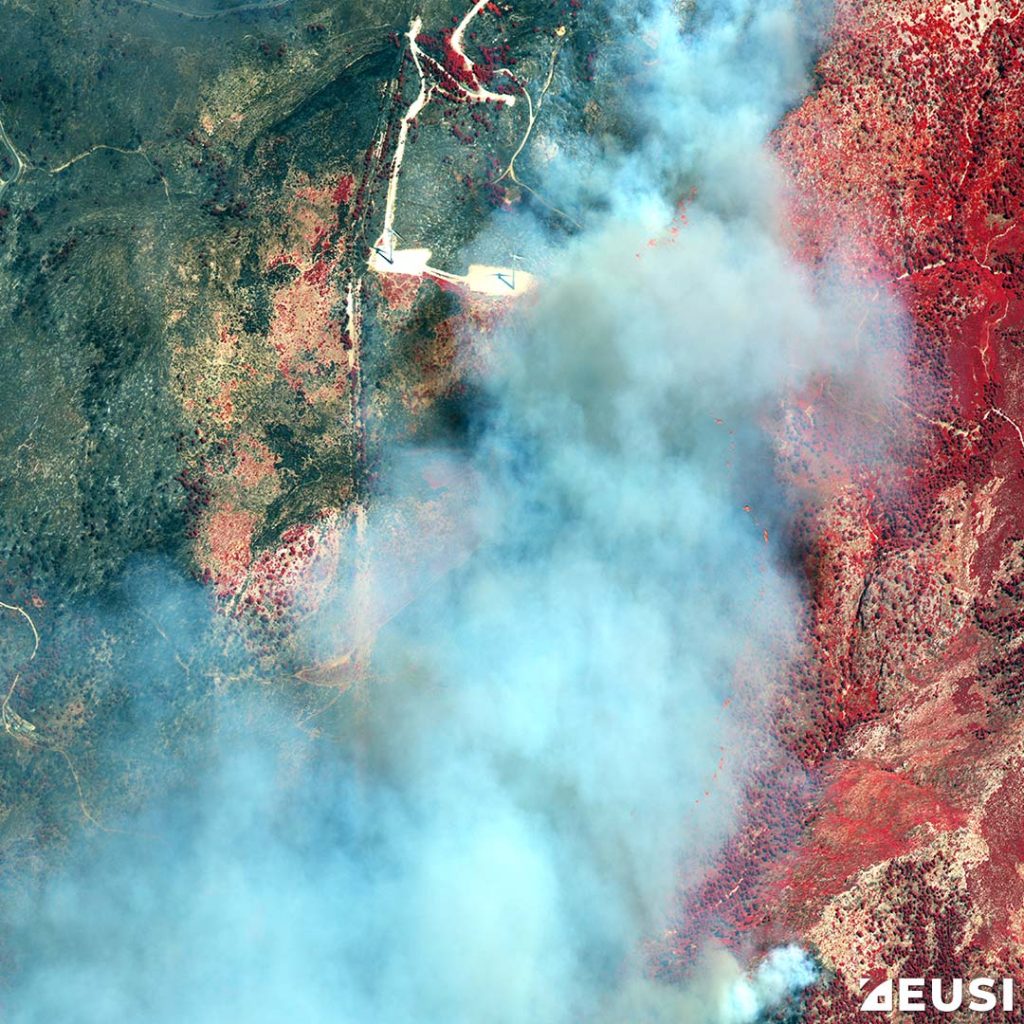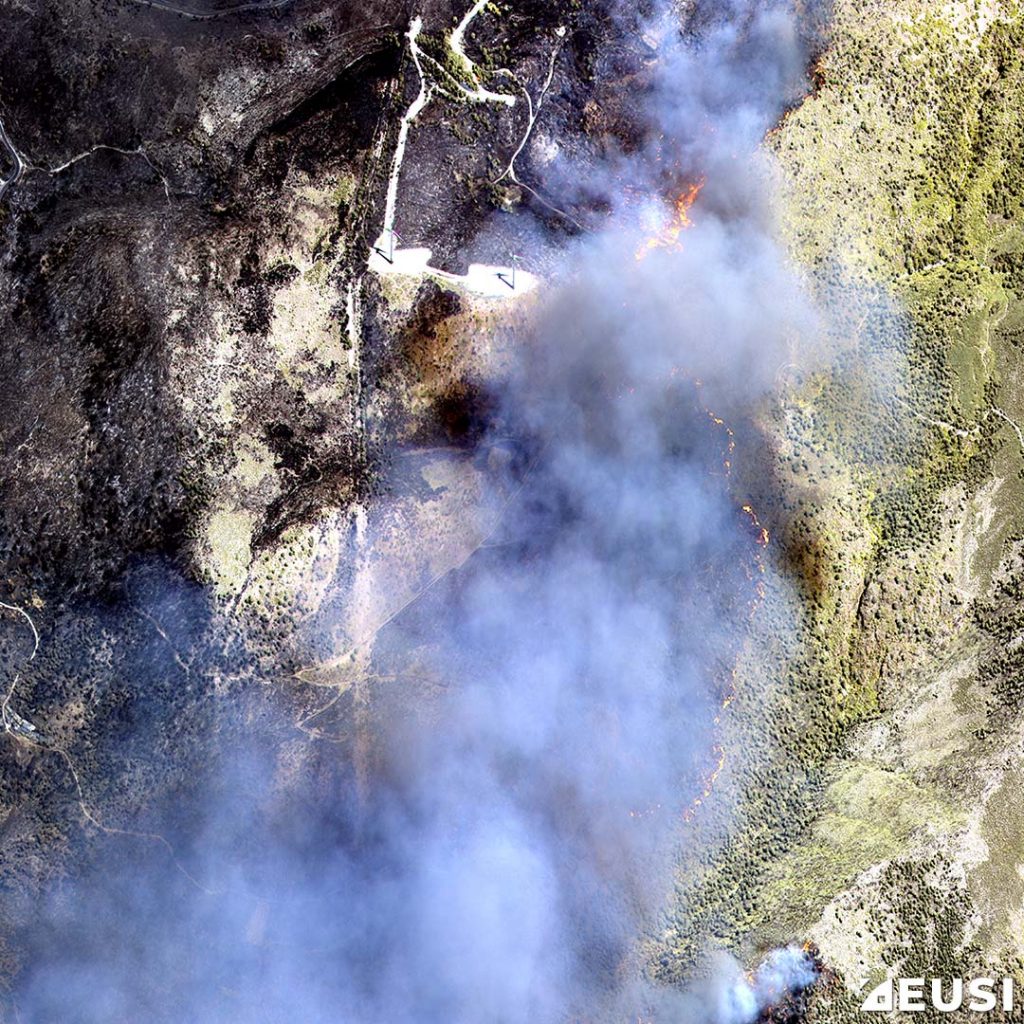 In the image slider above, you can clearly see how access to 8-band multispectral satellite imagery can give firefighters and emergency responders deeper insights into potentially open roads and the exact locations of the flames.
Sicily is being consumed by approximately 60 fires spreading across the island, reducing hectares of vegetation to ashes. The region around Palermo is the most affected, with flames encircling the area from Monreale to the Capo Gallo promontory. The Pergusa reserve is also impacted, leading to the evacuation of two thousand people. Palermo remains surrounded by fire due to the climatic conditions, and the Canadair aircraft are struggling to control the situation. Additionally, the Punta Raisi airport was closed for several hours due to the ongoing fires.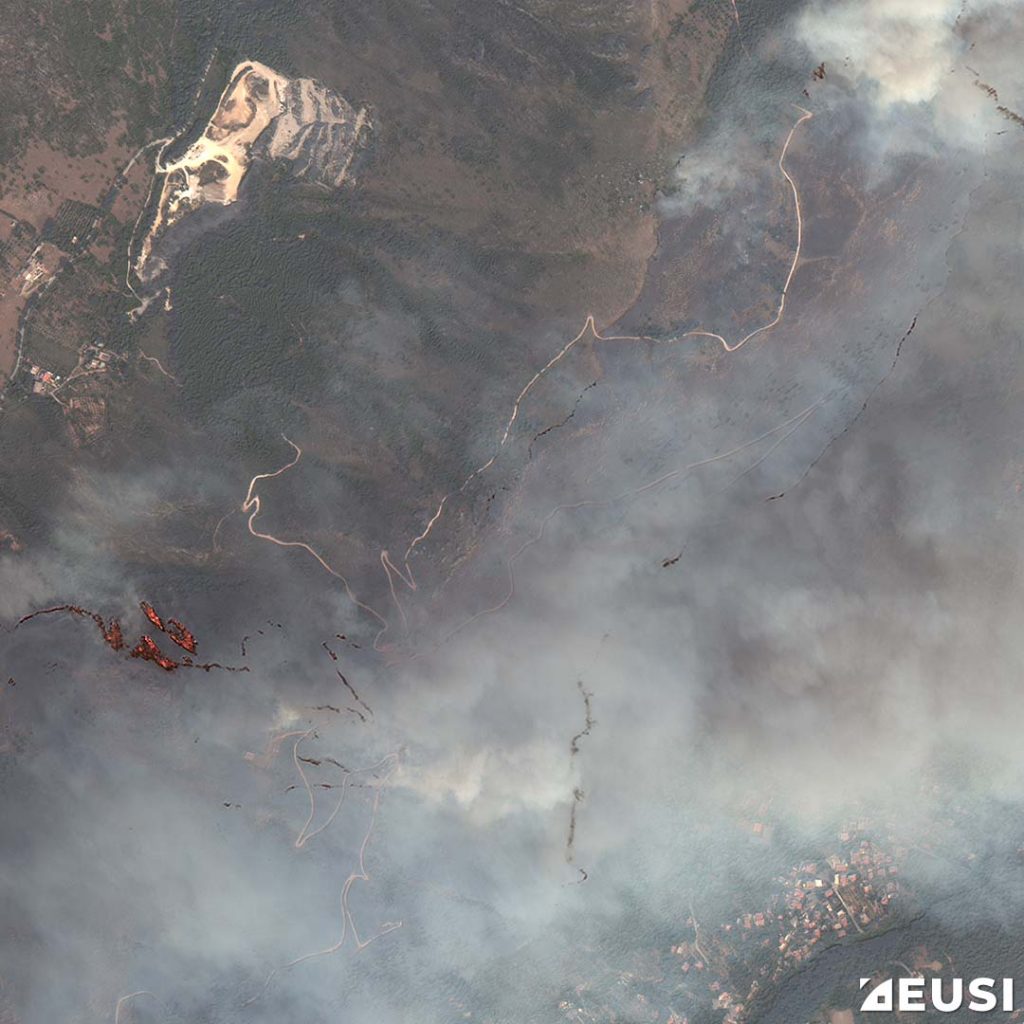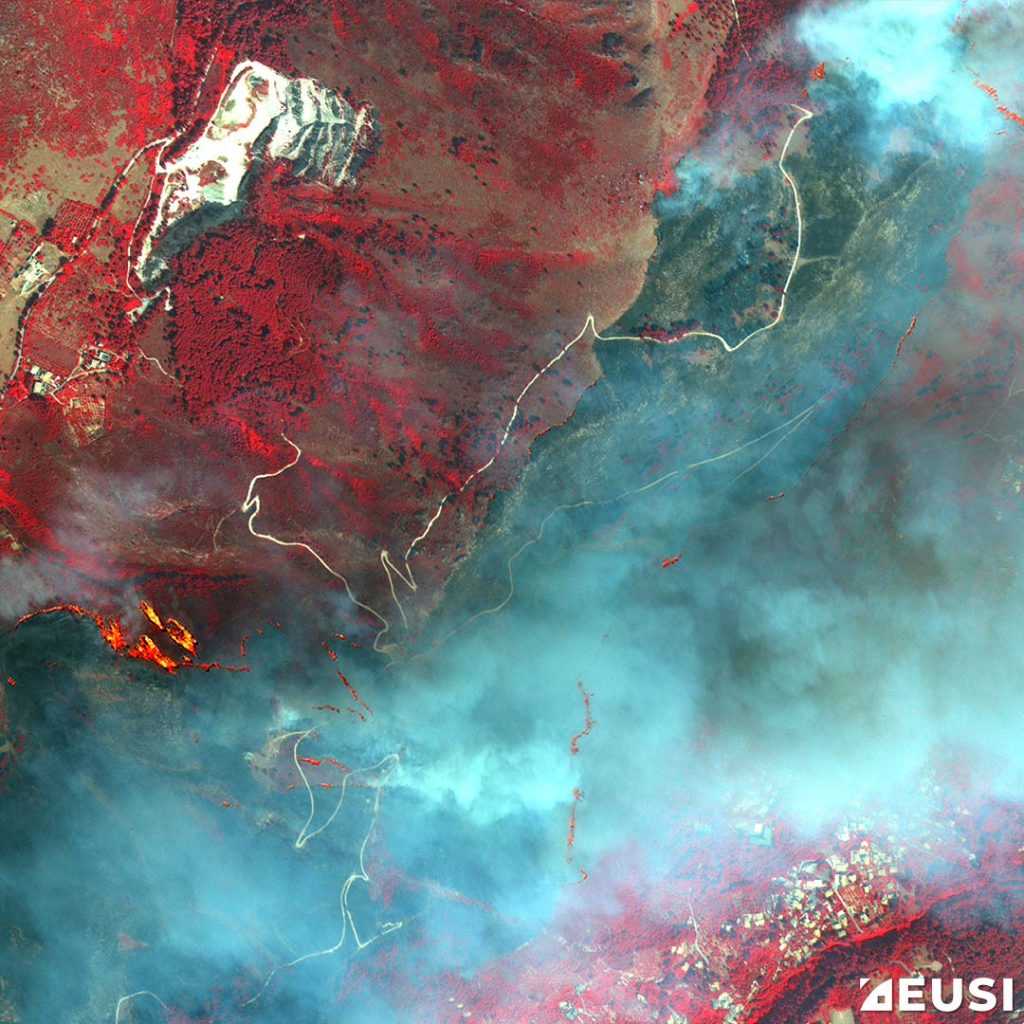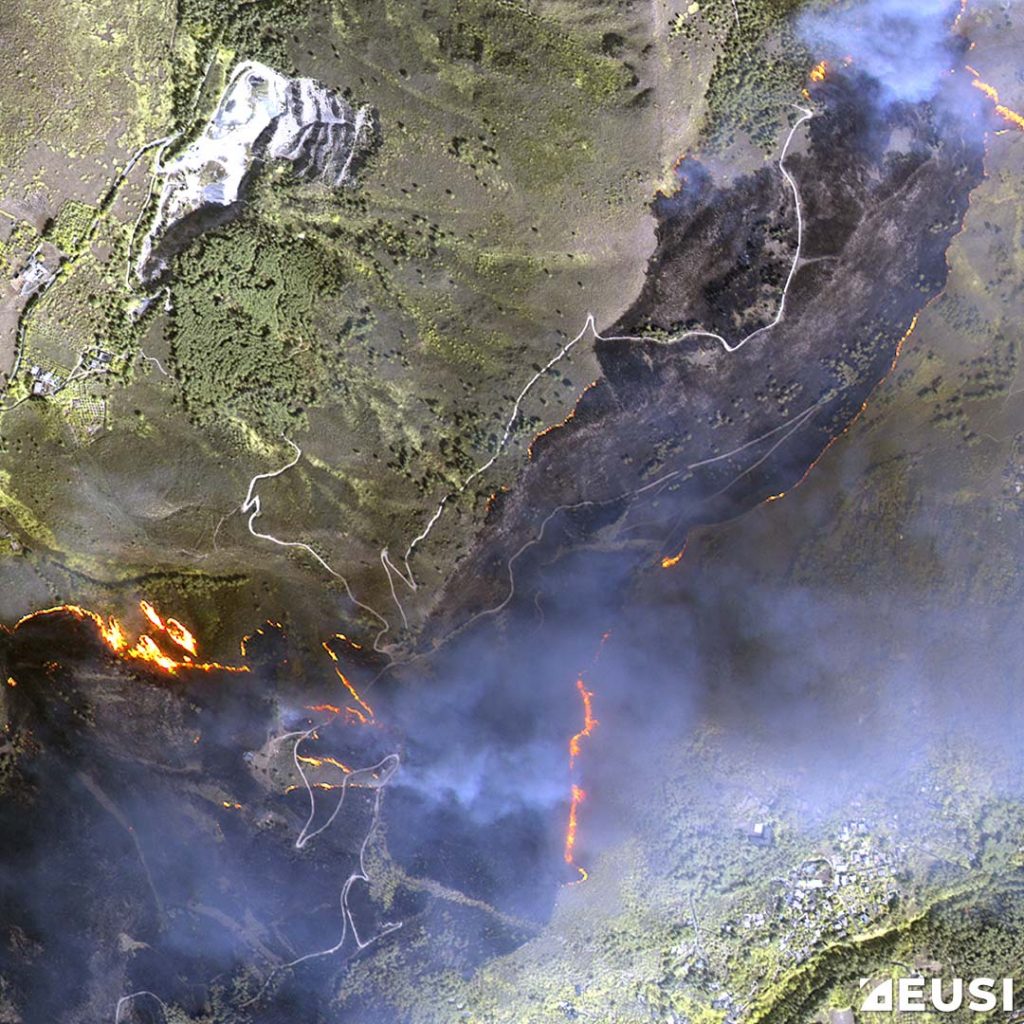 In the example above, the 4-band false colour image utilizing a single NIR band does improve the clarity of the image, however, it does not compare to the smoke and haze penetration of multiple NIR bands and a Red Edge band that can only be obtained at 30 cm resolution from EUSI by way of the Maxar WorlView-3 satellite. 
Multispectral imagery and Rapid Delivery for emergency response
When lives are on the line and every moment counts, emergency responders need quick and actionable data. EUSI specializes in Near Real-Time (NRT) imagery. From our ground station at the German Aerospace Center (DLR), we directly downlink from the WorldView constellation and deliver imagery to the user in as little as 15 minutes after collection. We also work closely with partners such as GAF AG and Copernicus EMS for rapid mapping services, so the user can not only benefit from the raw imagery but also from detailed delineation and grading maps as well as other impact analyses.
Utilizing the best and fastest data available, in this case, 8-band multispectral VHR satellite imagery with NRT delivery gives firefighters the best chances of making informed decisions that mitigate risks, minimize damages and save lives. 
View and download the images displayed in this article along with several other images of the Mediterranean fires from Rhodes, Corfu, Attica, Sicily and Algeria between 21-26 July 2023.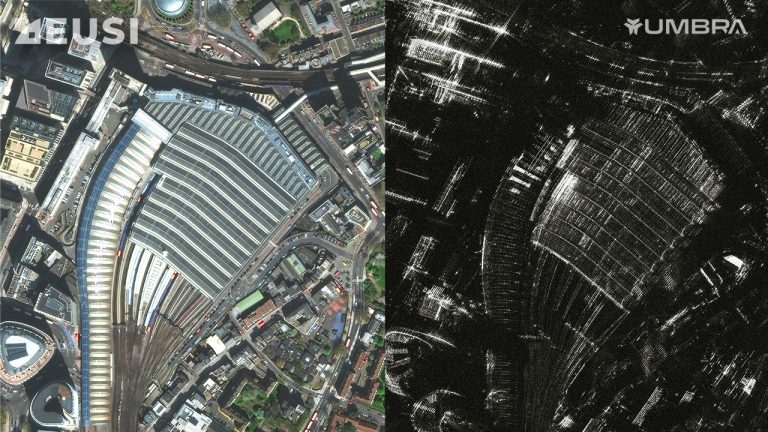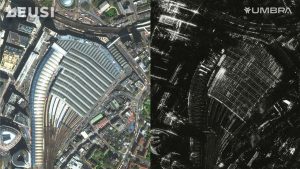 Munich, Germany – European Space Imaging (EUSI), a leading provider of Very High Resolution (VHR) optical satellite imagery, is pleased to announce a strategic partnership
Read More »