European Space Imaging Awarded Major European Commission Contract for CAP
European Space Imaging announced today that they have joined forces with e GEOS and DigitalGlobe to provide imagery and data processing services as part of the multi-year framework supply contract with the European Commission for the provision of very high-resolution satellite data and associated services in support of the European Union's Common Agricultural Policy (CAP).
The valuable four year framework agreement between the Joint Research Centre of the European Commission will be carried out by European Space Imaging together with partners e-GEOS and DigitalGlobe. Through this partnership a total of five satellites will be available to the JRC Controls with Remote Sensing (CwRS) project, an agricultural monitoring program of the European Union.
"DigitalGlobe's constellation has a proven pedigree in delivering high quality, very high resolution information for the JRC. We build on that tradition through this partnership which will ensure continuity of collection capability leveraging the most advanced high resolution commercial satellite constellation," said Andrea Bersan, Vice President of Sales EMEAR.
Each partner will play an important role in the creation and delivery of data. European Space Imaging, the Munich based Bavarian company will be managing activities from planning satellite image acquisition through to the final imagery delivery, including liaison with all partners and stakeholders involved on EU and national level. They will also manage tasking of DigitalGlobe's WorldView constellation through their Direct Access Facility (DAF) located on the grounds of the German Aerospace Center (DLR), Oberpfaffenhofen. QuickBird data will be centrally tasked through DigitalGlobe and made available through European Space Imaging. e GEOS will provide access, tasking, processing and delivery of GeoEye-1 and IKONOS data, through their Imaging and Processing Facility (IPF) located in Neustrelitz, Germany, operated by its subsidiary Euromap, activities for which e GEOS has a sound and longstanding reputation.
"e GEOS has been continuously supporting the JRC since the very beginning of the CwRS, in the 90's, initially with Landsat missions and since 2002 by providing DigitalGlobe VHR data. By joining forces with European Space Imaging we are confident to be able to improve the overall collection capacity, to more easily meet and even exceed the growing CwRS requirements ." says Marcello Maranesi, CEO of e GEOS.
European Space Imaging has been the most reliable data supplier to the European Commission in the Controls with Remote Sensing (CwRS) program and has delivered the bulk of the data for a yearly increasing number of control sites since the program's inception in 2004. With success rates close or equal to 100% every year and contributing more than two thirds of the data in the past ten campaigns European Space Imaging has proven to be a most dependable program partner. The company owns and operates its own satellite ground stations for VHR satellites in partnership with the German Aerospace Centre DLR in Oberpfaffenhofen near Munich.
"We are proud to bring together this groundbreaking partnership of the three most experienced players to provide tasking, data and satellite data processing services to support the European Union Member States. They benefit from multi-mission capability and access to the most sophisticated satellite constellation and data expertise available." says Adrian Zevenbergen, Managing Director of European Space Imaging.
e GEOS, an Italian Space Agency (20%) and Telespazio (80%) company, is a leading international player in the Geo-Spatial Information business. e GEOS offers unique portfolio of data and application services thanks to the superior monitoring capabilities of COSMO-SkyMed and the access to multimission data, from both optical and radar satellites, as well as from aerial surveys. e GEOS and its subsidiary GAF/Euromap operate the Earth Observation Space Centers of Matera, Italy and Neustrelitz, Germany, where multiple satellites are received and processed, also for near-real-time monitoring.
DigitalGlobe is a leading provider of commercial high-resolution earth observation and advanced geospatial solutions that help decision makers better understand our changing planet in order to save lives, resources and time. In January 2013, DigitalGlobe and GeoEye combined to become one DigitalGlobe, creating a company capable of providing greater value to customers through an integrated constellation and a broader set of products and services. For more information on the combination and its benefits, visit www.digitalglobe.com/combination.
About European Space Imaging
European Space Imaging is the leading supplier of very high-resolution (VHR) satellite imagery across Europe and North Africa. They are the only European satellite data provider operating multi-mission capable ground stations, enabling optimised collection strategies, flexibility and real-time weather assessments. Since 2002 European Space Imaging has continued to provide access to the most advanced VHR satellites available and services to customers throughout their region.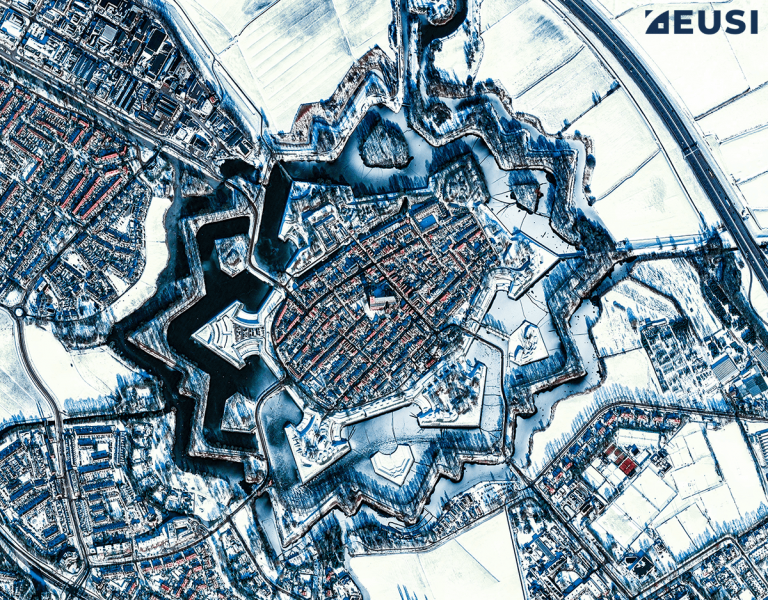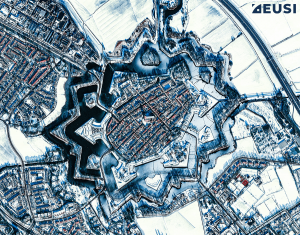 Star forts are not only perfect examples of effective military engineering; they are also beautiful. Let's join us on a fascinating journey through architecture and history – from space. All satellite images in this article were collected by WorldView-3, WorldView-2 or GeoEye-1 at 30–50 cm resolution.
Read More »