Spots from Space: Fair Access to Greek Beaches
Greece has the longest tourist coastline in Europe, and its beaches are the property of all citizens. Each summer, coastal municipalities grant permits for hotels and cafes to utilize specific areas of the beach for their patrons. Enforcing these permits was inaccurate and time consuming until a geospatial solutions provider in Athens teamed with a Municipal corporation to develop a cost-effective and unbiased method of monitoring beach usage on the Island of Santorini with very high resolution WorldView-2 satellite imagery.
Preserving Public Access to Beaches
Beaches are invaluable economic and recreational resources for Greece, drawing millions of tourists annually for the summer season. With an eye toward maintaining the public nature of the beaches, the Greek government has given local municipalities the right to protect their coastal areas by carefully granting use contracts to beachfront entities, such as hotels, cafes, and watersports operators.
Each one-year permit defines a specific space where the holder may set up umbrellas, tables, lounge chairs. The area is usually bounded by the edges of the building foundation extended outward across the beach for several meters toward the water.
"Some business owners set up umbrellas or chairs beyond their assigned areas, trespassing on other's spaces or blocking public access", said Vana Giavi, Managing Director of TotalView.
Enforcing proper utilization was a time-consuming and inconsistent process that involved municipal employees attempting to visit each waterfront establishment during the summer tourist season to determine whether violations had occurred. Another challenge was ensuring that holders actually understood the boundaries of their spaces. The Municipality of Santorini is manned with four engineers who are constantly assigned with a multitude of tasks related to the operation of the local government. Allocating those engineers to monitoring the beaches and drawing dozens of topographic diagrams was neither a feasible nor an efficient option for the Municipality.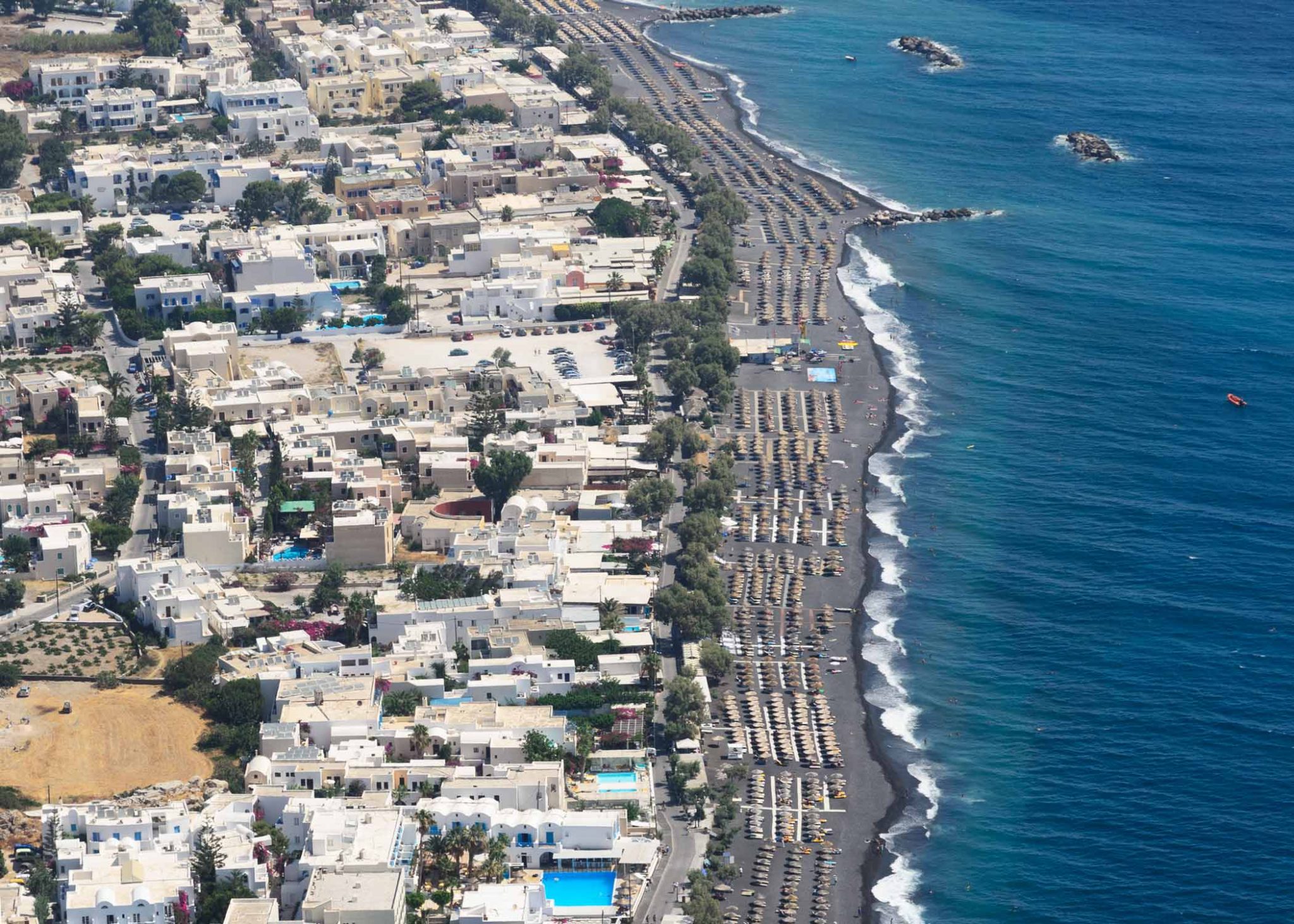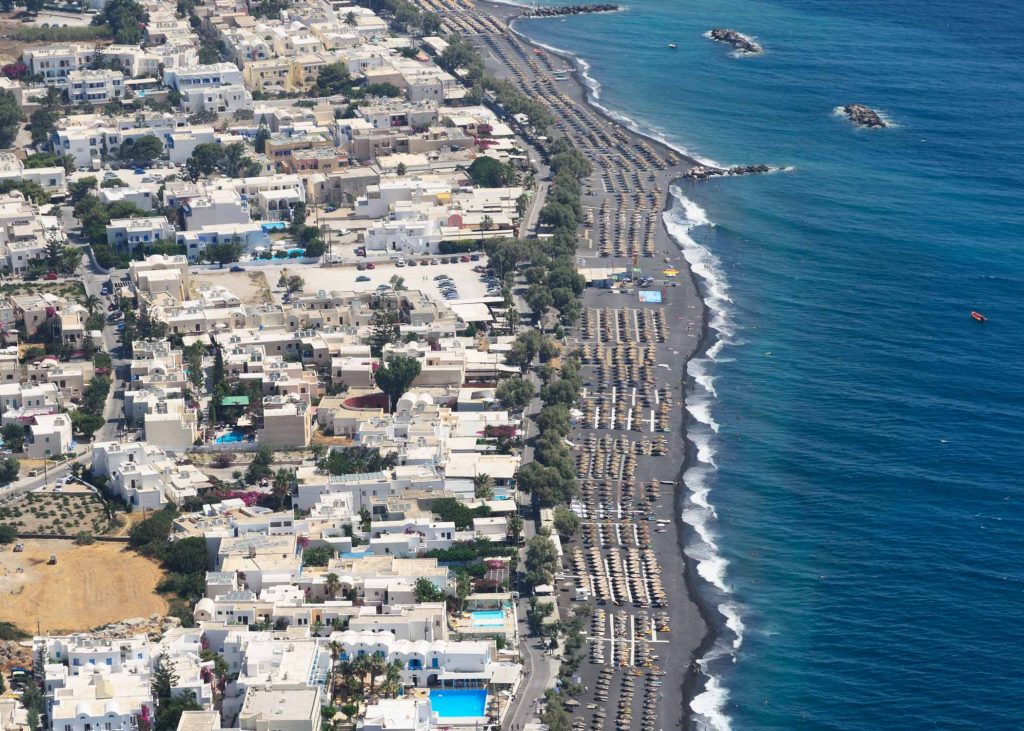 Making sure that business owners are complying with their permits on Santorini Beaches is a complex and time-consuming task.
Monitoring the Beaches Fairly and Accurately
TotalView teamed with GEOTHIRA S.A. to devise an efficient and consistent method of monitoring permit compliance. Their concept was to use very high resolution satellite imagery to map the boundaries of each permitted space and then analyze images taken at two or three times during the summer season to ensure umbrellas and tables were placed inside the defined space.
"We determined that pansharpened WorldView-2 imagery with 50-centimeter resolution could be used to see where beach umbrellas were located", said Giavi.
TotalView worked with European Space Imaging to collect WorldView-2 images over the coastal zones of Santorini in the beginning, middle and end of the summer season. The scenes were orthorectified by TotalView to ensure that permitted spaces could be mapped accurately. These were then provided to GEOTHIRA S.A. in order to plot the beach areas, as defined by the permit contracts, on the image collected at the beginning of the summer season.
Once the areas had been mapped on the first image, subsequent images were analyzed to detect if more space than rented was used. An excessive use tolerance of 10 square meters is allowed. Also the images were analyzed to find vendors who had set up operations on the beach without any permit at all.
Violations were noted and measured on multiple images collected throughout the season. Subsequently, using printed snippets of the orthorectified images, GEOTHIRA S.A. dispatched a field inspection committee to review all the beaches on Santorini. The process was completed within two days and resulted in a series of draft sketches confirming where any violations had occurred. These draft sketches were then plotted and added to official reports. GEOTHIRA S.A delivered these to the Greek government which then imposed fines based on the area of beach used beyond what had been permitted. The Greek government, and not the municipality, is responsible for collecting the fines.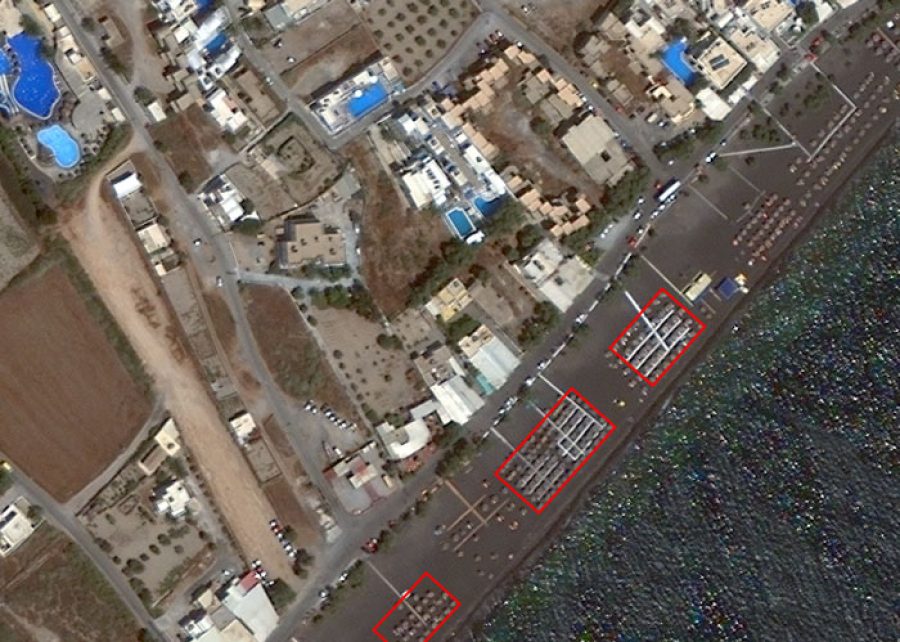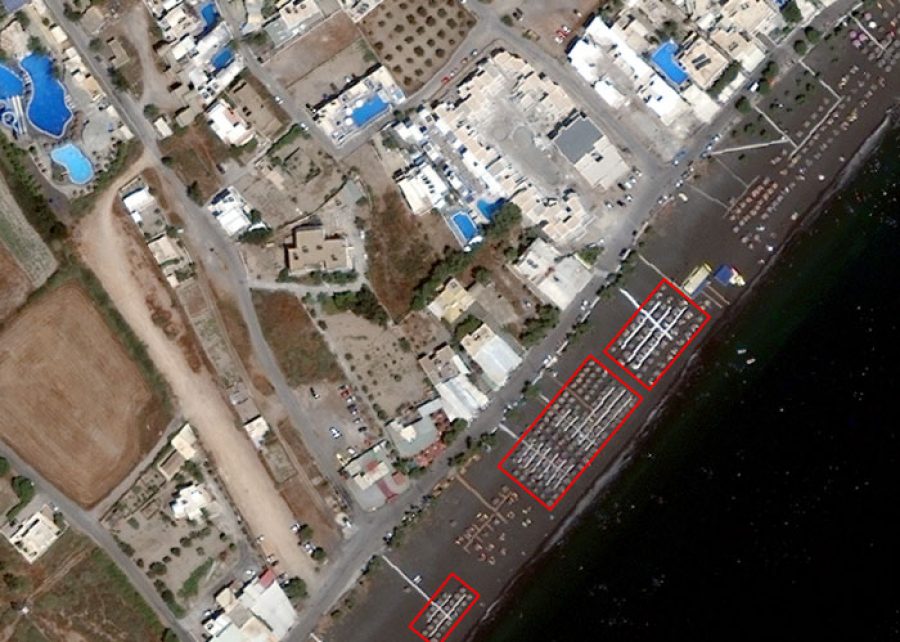 The satellite image on the left was taken in August 2014 and shows how some businesses were exceeding their alloted space, whereas the image taken in July 2015 (right) shows vast improvement.
Monitoring Changing Behaviour
TotalView and GEOTHIRA S.A. first collaborated on the beach monitoring project on Santorini in 2013. Over the past three seasons, they have noticed a reduction in the number of businesses violating their beach-use agreements. Everyone involved in the project considers this a success because the monitoring has achieved its goal of modifying behavior to curb excessive use of the public beach. Permit holders know that a monitoring procedure through satellite images has been established, and the findings are beyond any doubt.
The Municipality of Santorini no longer needs to assign its four engineers to draw the permit maps or to write the inspection reports. They rely on the image maps created by TotalView and GEOTHIRA S.A. outlining permitted areas. These documents are now provided to permit holders so there can be no confusion over where and how much space has been allotted.
Based on the success on Santorini, TotalView has been contracted by the Greek Ministry of Economics to expand the beach monitoring project to seven other coastal municipalities on other islands. The concept of enlarging the scope of the monitoring process to include city parks and town squares where public spaces are similarly shared is now being evaluated.
In addition to the time savings inherent in monitoring and mapping by satellite, this technique is respected by permit holders who know it is being used consistently across the tourist beaches. Business owners also understand the images are unbiased, ensuring equal treatment of all permit holders. And the municipalities appreciate the fact that the truthfulness of satellite images can be defended legally, if needed.
To efficiently and fairly monitor compliance with beach-use permits across thousands of square kilometers of coastline throughout the summer tourist season.
TotalView and authorities on Santorini used very high resolution WorldView-2 images to map permitted beach spaces, illicit use, and measure violations.
The beach monitoring process has successfully identified businesses violating their beach space permits, infringements have been reduced, and fair access to Greek beaches has been ensured.
TotalView is a WorldView Global Alliance authorized reseller based in Athens, Greece. With a strong engineering background, the firm provides advanced image processing capabilities to organizations involved in public, military, commercial and academic projects. TotalView resells and offers value-added services related to remote sensing, photogrammetry, GIS and software development projects.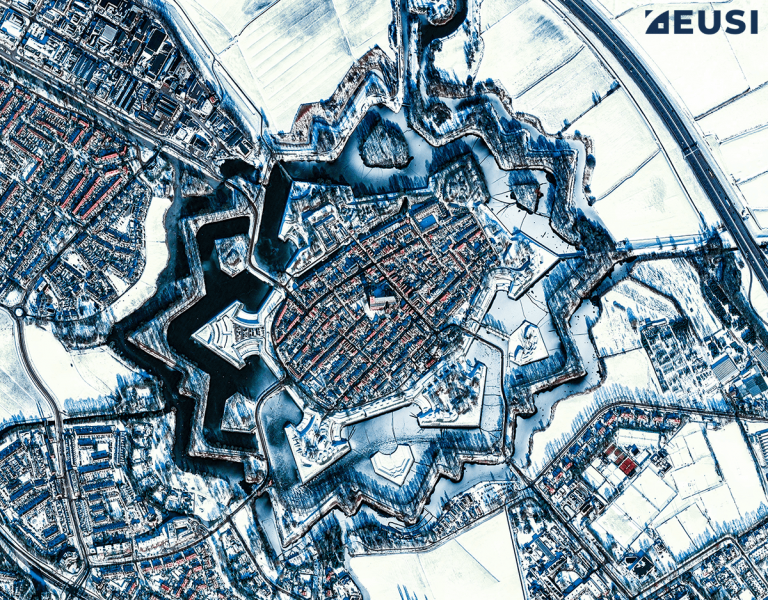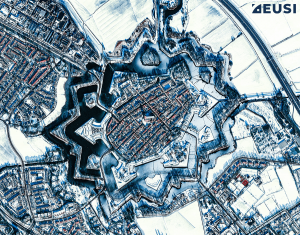 Star forts are not only perfect examples of effective military engineering; they are also beautiful. Let's join us on a fascinating journey through architecture and history – from space. All satellite images in this article were collected by WorldView-3, WorldView-2 or GeoEye-1 at 30–50 cm resolution.
Read More »