Rivers and Lakes are Drying as Europe Faces Worst Drought in 500 Years
According to the report "Drought in Europe" released in July 2022 by the European Commission Joint Research Centre (JRC) Global Drought Observatory, a staggering portion of Europe is currently exposed to warning and alert drought levels. Compared to previous months, drought hazard levels have been expanding and worsening, especially in France, western Germany and several Mediterranean regions. Drier than normal conditions are forecasted for the next three months in large areas of Europe, impacting already reduced water volume. Water and heat stresses have reduced crop yield and crop potential and it is foreseen that water supplies may be compromised in the coming months. According to the latest map of the Combined Drought Indicator, 47% of Europe is currently sitting at a warning condition level, indicating that rainfall has been less than usual and soil moisture is in deficit. A further 17% of Europe is deemed to be at an alert level, meaning that vegetation and crops are showing negative effects. The effect of the drought on the land is startling and clearly visible to the naked eye through Very High Resolution (VHR) satellite imagery when comparing areas from before the drought to now.
Sirmione, Lake Garda, Italy
In July 2022, Italy declared a state of emergency in five northern and central regions affected by drought due to continued severe heat waves devastating agriculture production and threatening power supplies. Italy's largest lake, Lake Garda, has been directly affected by the lack of rainfall with water levels at a 15-year low. "We are currently at 30 centimetres (12 inches) above the (benchmark) hydrographic level," compared to an average for this time of year of between 80 and 100, said Gianluca Ginepro, head of Garda Unico, which promotes the lake. Due to reduced water levels, nearly 30 meters of additional coastline has emerged, as evidenced in the below satellite image captured by European Space Imaging on 21 August 2022 with Maxar satellite GeoEye-1. Lake Garda is drained by the Mincio River, which flows south into the Po River; a river that is also currently affected by the drought conditions facing Italy.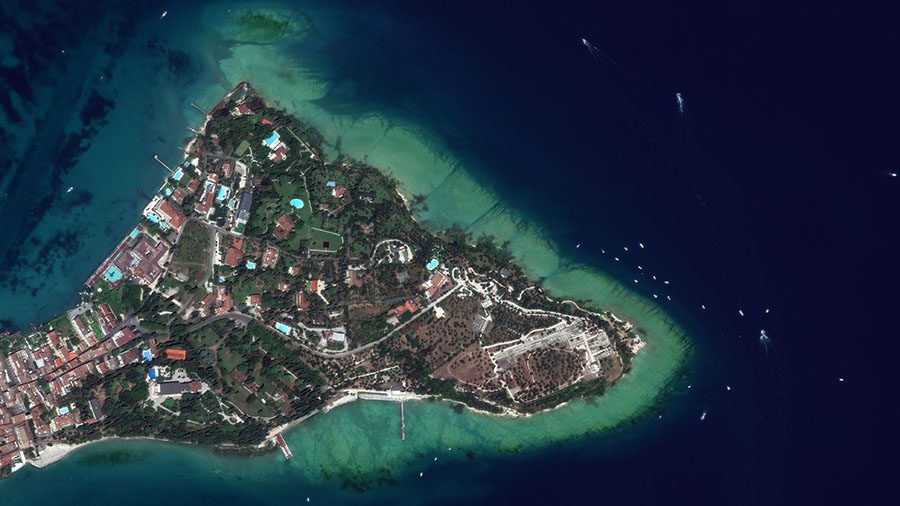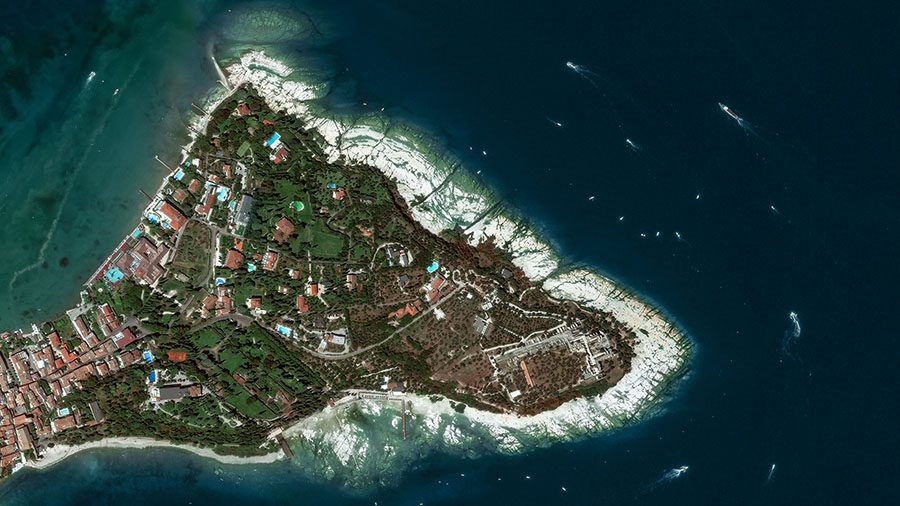 Satellite imagery depicting Sirmione on Lake Garda, Italy, captured prior to the drought on 4 July 2018 with GeoEye-1 and since the drought on 21 August June 2022 with GeoEye-1
Po River is the longest river in Italy spanning over 650 km in length that is known for its expanding girth, often spilling into the adjourning Padanian Plains and flooding the area to create a marsh-like landscape, perfect for irrigating rice paddies, one of the country's largest exported agricultural products. However, the valley of the River Po, which produces 40% of the country's food has barely seen any rainfall since early 2022 and the river is currently seven meters below average depth; suffering its worst drought in 70 years.  According to the country's largest agricultural union, Coldiretti, the drought is also threatening half of the livestock in the Po Valley, where Parma ham is produced. This area is also used as grazing land for the cows whose milk is used for Italy's prized Parmigiano Reggiano cheese.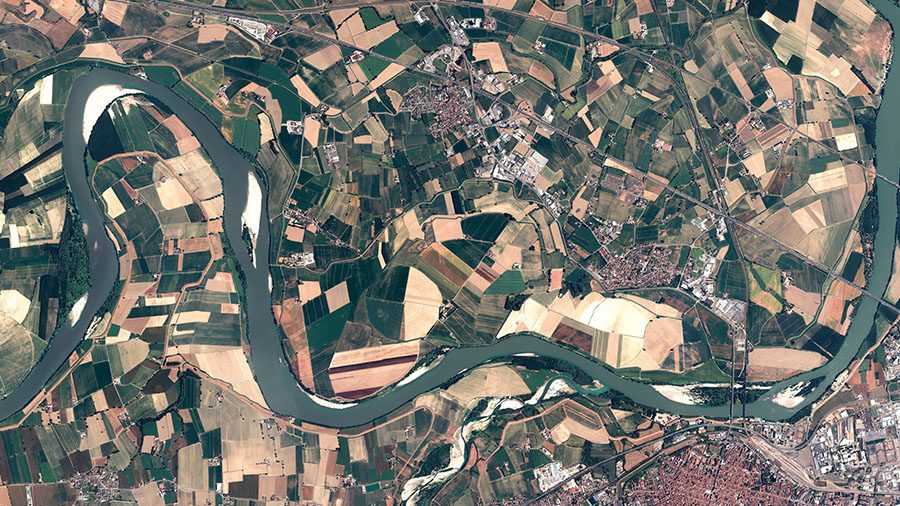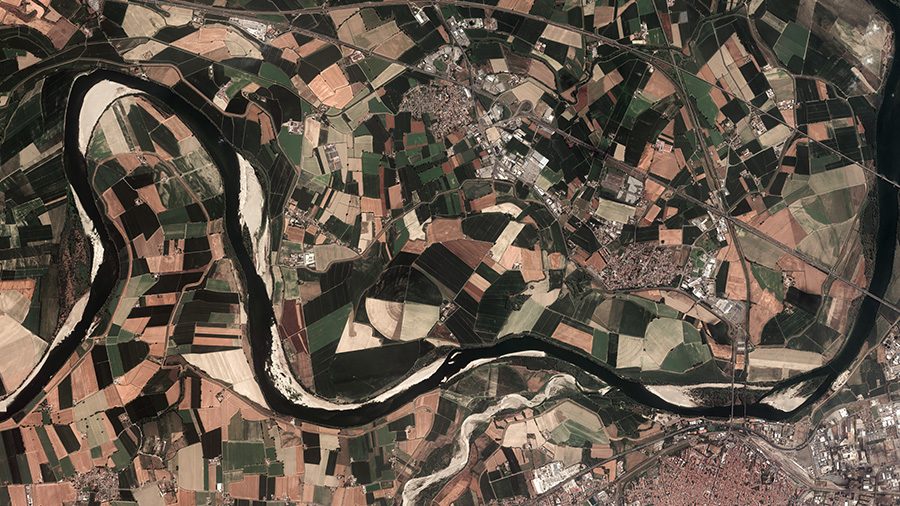 Satellite imagery depicting sections of the Po River near Piacenza, Italy, captured prior to the drought on 3 July 2020 with WorldView-2 and since the drought on 27 June 2022 with WorldView-3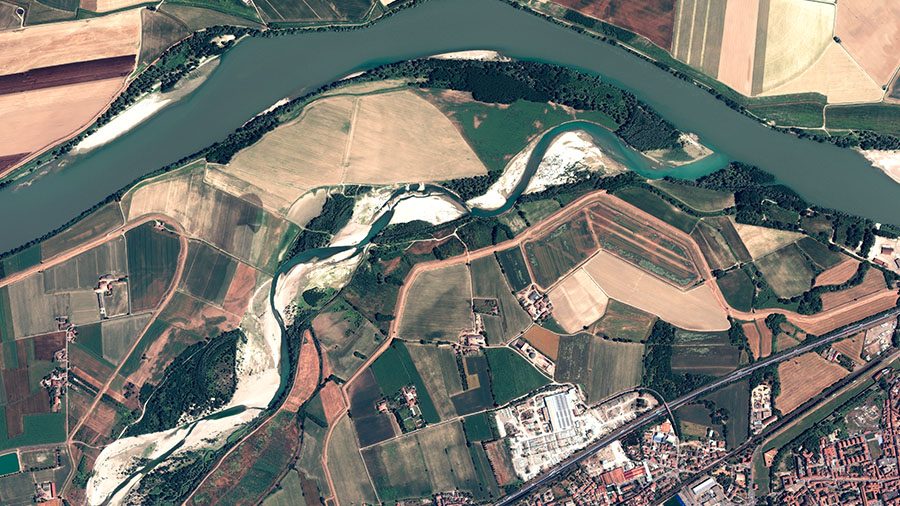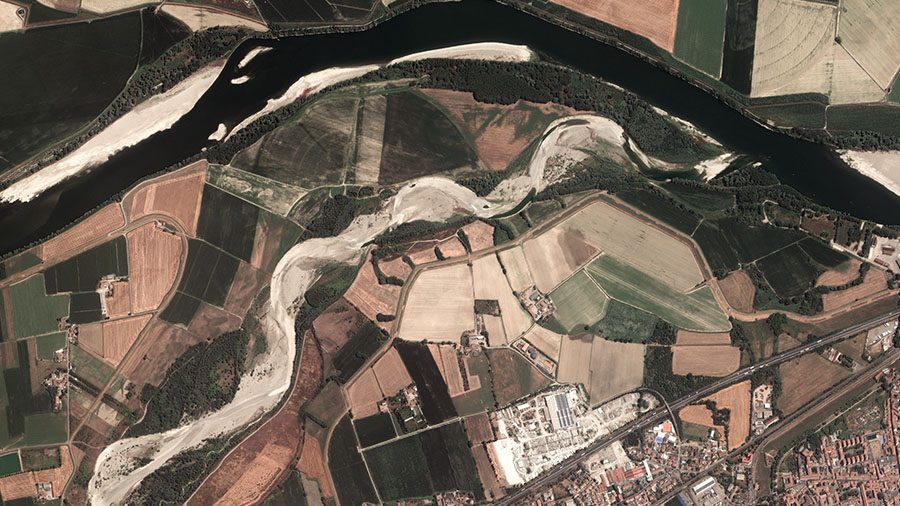 Satellite imagery depicting sections of the Po River near Piacenza, Italy, captured prior to the drought on 3 July 2020 with WorldView-2 and since the drought on 27 June 2022 with WorldView-3
Further north in Germany, water levels fell to below 40cm in August 2022 along parts of a key route for transporting commodities in the Rhine River, setting a new low. According to Capital Economics, transporting goods by inland waterways is more important in Germany than in many other Western European countries. These waterways connect to German seaports which handle almost one-third of the overall German external trade. When the water is too low, ships are either unable to pass through the waterway or must reduce their cargo load, directly threatening Germany's economy and making a recession even more likely. Shipping companies are now preparing for a "new normal" in which low water levels become more likely as global warming makes droughts more severe. German logistics company, HKG, are tackling this issue head on for the foreseeable future by building new ships that are more suitable for lower water levels on the Rhine.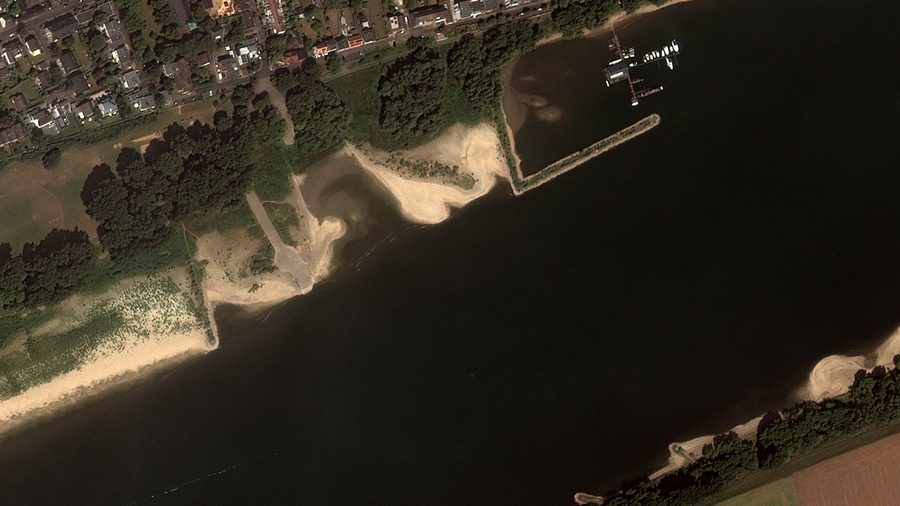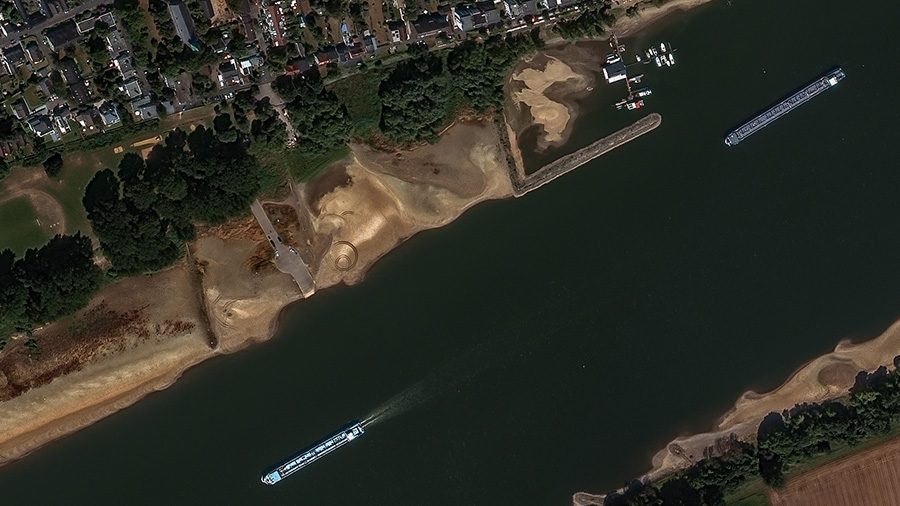 Satellite imagery depicting the Rhine River close to Cologne, Germany, captured prior to the drought on 30 July 2020 with WorldView-2 and since the drought on 24 July 2022 with WorldView-3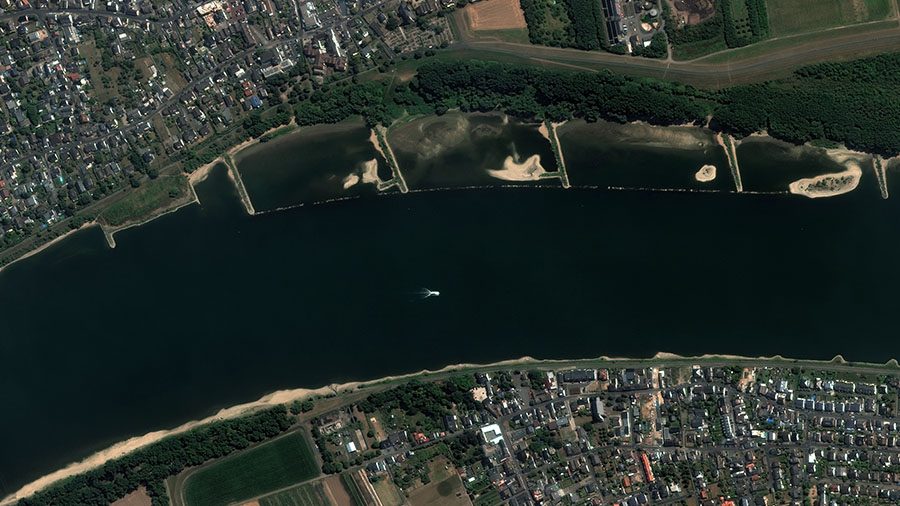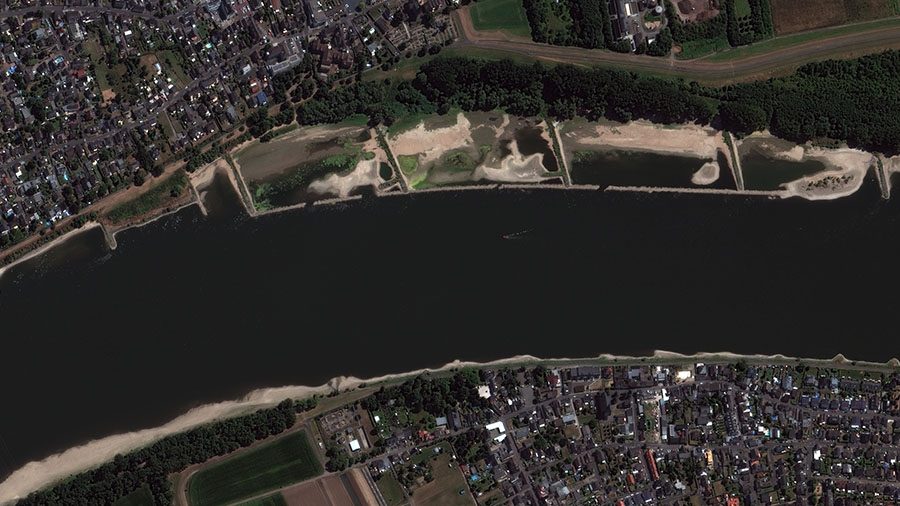 Satellite imagery depicting the Rhine River close to Cologne, Germany, captured prior to the drought on 30 July 2020 with WorldView-2 and since the drought on 24 July 2022 with WorldView-3
French Villages Without Tap Water
More than 100 municipalities in France are currently short on drinking water as France battles its worst drought on record. The areas affected include Doubs in eastern France, as well as the regions of Drôme and Var in the south, where riverbeds and lakes are now either almost or completely dry. Restrictions on water are currently in place and in several areas, farmers have been banned from watering their crops. France's agricultural federations said last week that billions of euros are needed to compensate for "colossal" production losses linked to the drought. In a statement released by French Prime Minister, Elisabeth Borne, she warns that France is facing its "most severe drought" ever recorded. "The exceptional drought we are currently experiencing is depriving many municipalities of water and is a tragedy for our farmers, our ecosystems and biodiversity," the statement said. Lake Broc, which draws its water from the Var River, continues to empty at a rate of 6 cm each day and has already lost a total of 8 meters of water. Due to this, a total fishing ban has been in place since last Wednesday (23 August 2022) and in a bid to save the current fish, the lake will be oxygenated and strictly monitored to avoid the situation deteriorating further.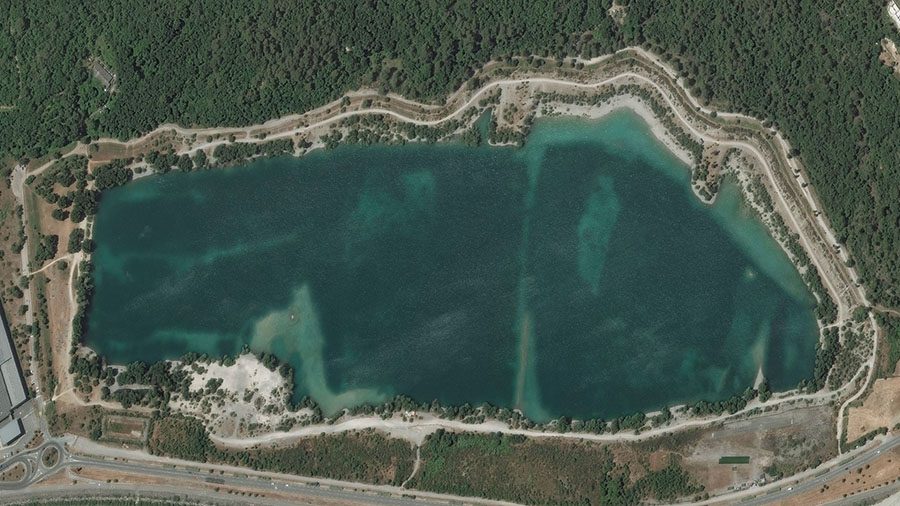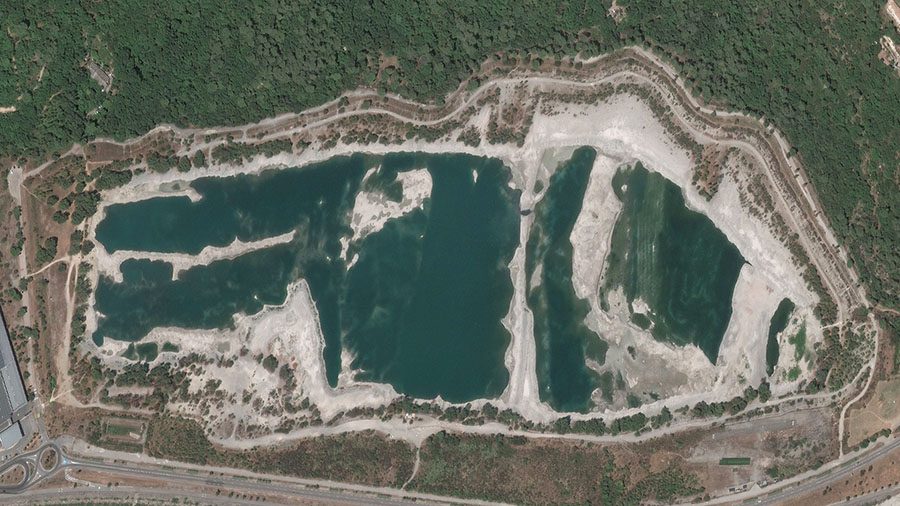 Satellite imagery depicting Lake Broc, France, prior to the drought captured on 1 July 2021 with WorldView-3 and since the drought on 2 August 2022 with GeoEye-1.
The Flow-on Effect of Drought
This year's warmer temperatures are damaging agriculture, forcing water restrictions, encouraging wildfires and threatening aquatic biodiversity. While the lack of water in Europe is clearly affecting food production, transportation of goods and environmental ecology, it is also negatively impacting the energy sector for both hydropower generation and cooling systems of power plants.  Energy and food security has already come under threat from the current conflict in Ukraine, and now with the drought, food and energy prices are expected to increase even more, with potential to create an environmental disaster. To avoid this, energy ministers from EU countries will meet on 9 Sept to discuss how to ease the burden of increasing energy prices on businesses and households as a matter of urgency. Moving forward, it is clear that the drought is being blamed on climate change. Commissioner for Innovation, Research, Culture, Education and Youth Mariya Gabriel said: "The combination of a severe drought and heatwaves has created an unprecedented stress on water levels in the entire EU. Climate change is undoubtedly more noticeable every year." Satellite imagery can be used to continue to monitor this situation, as an input to develop drought indices for monitoring, predicting and qualifying drought and its associated effects in order to avoid catastrophic consequences. Unfortunately, the end of drier than normal conditions in Europe doesn't look set to change anytime soon and are predicted to continue until at least September.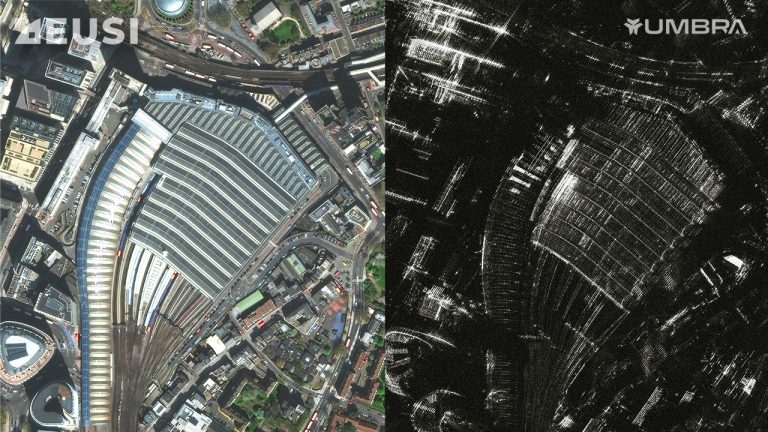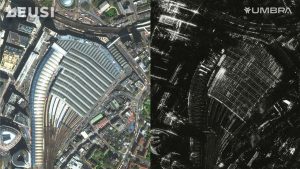 Munich, Germany – European Space Imaging (EUSI), a leading provider of Very High Resolution (VHR) optical satellite imagery, is pleased to announce a strategic partnership
Read More »