30 cm Satellite Imagery as an Alternative to Aerial Data
Remote sensing projects can often begin with the question "Should I use aerial imagery or satellite imagery?".
This question may come up again and again over the course of long term projects where unforeseen circumstances change the ability to collect data, the reliability of the data or the scope of the work. Budgets, technology and government restrictions are under constant transformation. Looking at the key differences between aerial imagery and Very High Resolution (VHR) satellite imagery provided by European Space Imaging can shed light upon how one might better suit your needs or how they can work together to achieve optimal results for any remote sensing endeavour.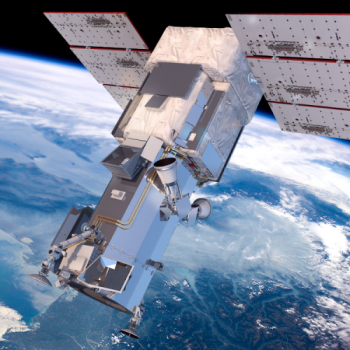 WorlView-3 Satellite that captures 30 cm multispectral imagery.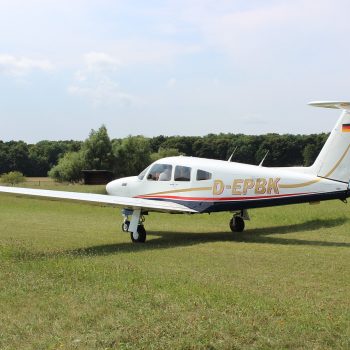 Common aircraft used for aerial imaging.
Satellite and aerial imagery are often put in stark contrast to each other, but for many projects, they compliment each other superbly. Many researchers have found that results using one or the other fall well within accepted margins of error and therefore should decide whether to use satellite imagery over aerial based on other criteria.
How does satellite imagery compare with aerial?
1. Efficiency
Satellites can complete remote sensing projects more efficiently than aircraft which can have enormous impacts on cost-benefit analysis. This is especially true for large scale mapping projects that might take multiple flights for manned or un-manned aircraft. These savings are particularly important in budget/time sensitive government mapping projects or when considering taking a new solution to market as was the case with Highly Automated Beach Litter Cleanup by the TAMA Group.
2. Scale
Both satellite and aerial imagery is suited for small or large scale collections. The key difference is the speed and ease in which satellites can collect thousands of square kilometres in minutes without the complicated logistics of aircraft flight planning. Learn more about how Rail Road companies monitor long sections of track with relative ease.
3. Land and Air Restrictions
Aircraft have many restrictions compared to satellites. They must obtain airspace permits, plan for suitable take-off and landing points and adhere to ever-changing border and travel restrictions. Aircraft are also vulnerable to weather conditions such as heavy winds. Satellites simply don't have any of these issues. They can collect isolated, conflicted or cross-border locations with ease.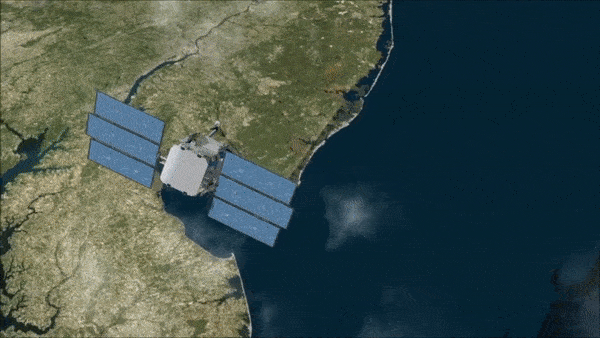 4. Tailored Tasking
When you order satellite tasking, the planning is fully customisable. This allows users to prioritise their areas for collection, define the resolution and spectral bands as well as specify collection angles. There is added flexibility for complex projects to adjust these requirements shortly before the acquisition takes place. Furthermore, real-time weather updates ensure that the data acquisition will be as cloud-free as possible, further narrowing the competitive gap between aerial data and satellite imagery.
5. Multispectral and Stereo
Maxar's WorldView satellite constellation has 16 multispectral spectral bands that can form hundreds of useful band combinations. Stereo imagery offers reliable data for the creation of Digital Elevation Models (DEM) and virtual 3D reconstructions. Satellite imagery providers such as European Space Imaging can collect these bands as well as stereo imagery in a single pass, eliminating the need for multiple flights by a number of specialised aircraft. Learn more about the capabilities of the WorldView constellation.
6. Post Processing
Satellite Imagery is directly downloaded through a ground station where it can be delivered to the user within hours of collection. Users may choose from a number of processing options and delivery methods to best with their integrated workflows.
7. Resolution
The suitability of 30 cm satellite imagery for aerial imaging applications is confirmed by the National Imagery Interpretability Rating Scale (NIIRS), which is used by the imaging community to define and measure the quality of images and performance of imaging systems. Imagery captured in 30 cm from WorldView-3 has a rating of NIIRS 5.7. This means that it is possible to identify objects such as above-ground utility lines in a residential neighbourhood, impervious surfaces, crop species and their boundaries, vehicle types, manhole covers and much more. See 30 cm resolution satellite imagery for yourself.
8. Permanent Focus
Satellites have the capability to reach areas of interest that are difficult or inaccessible by other means and offer predictable and frequent refresh schedules. With high frequency refresh rates, users can confidently request the exact same area of interest to be collected at specific intervals. This is a crucial feature for automated analysis.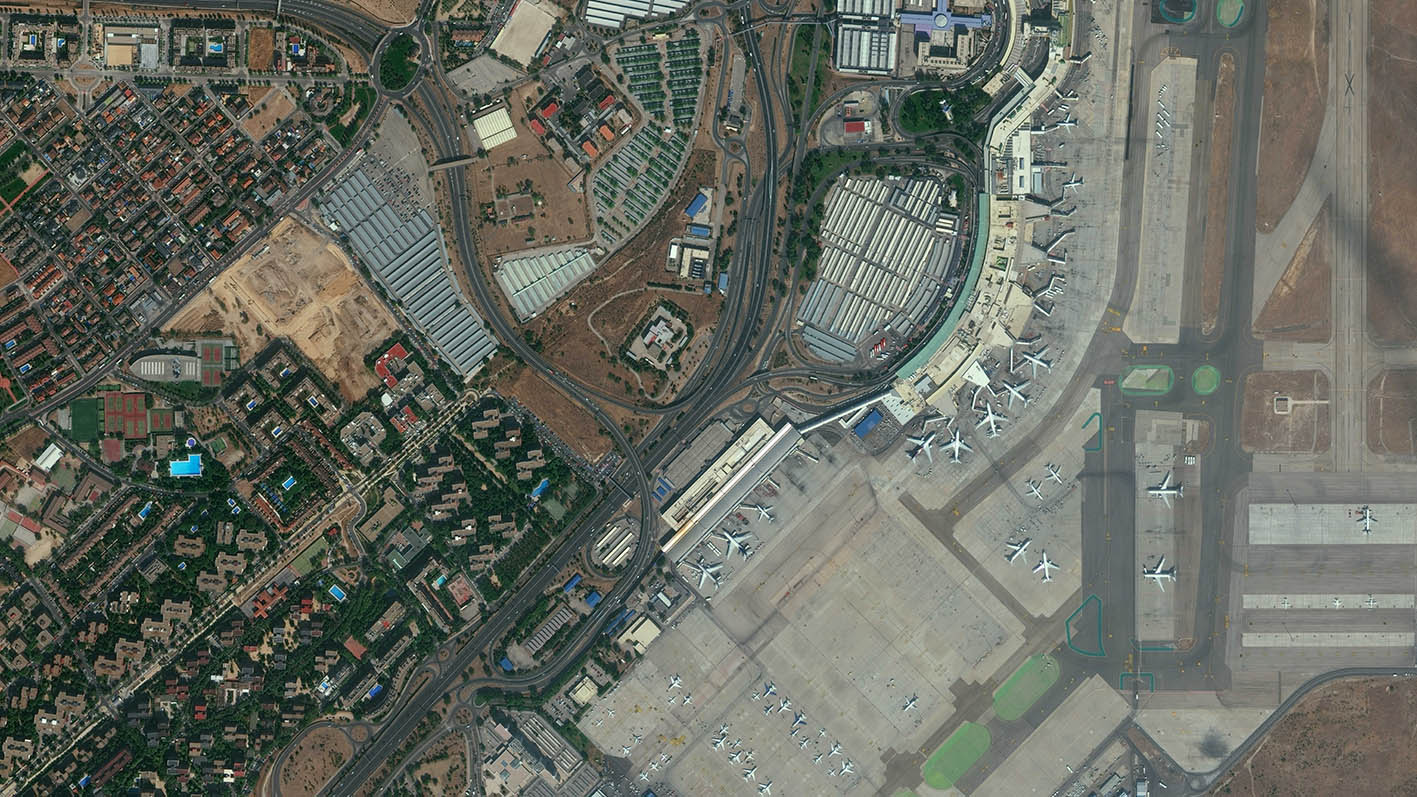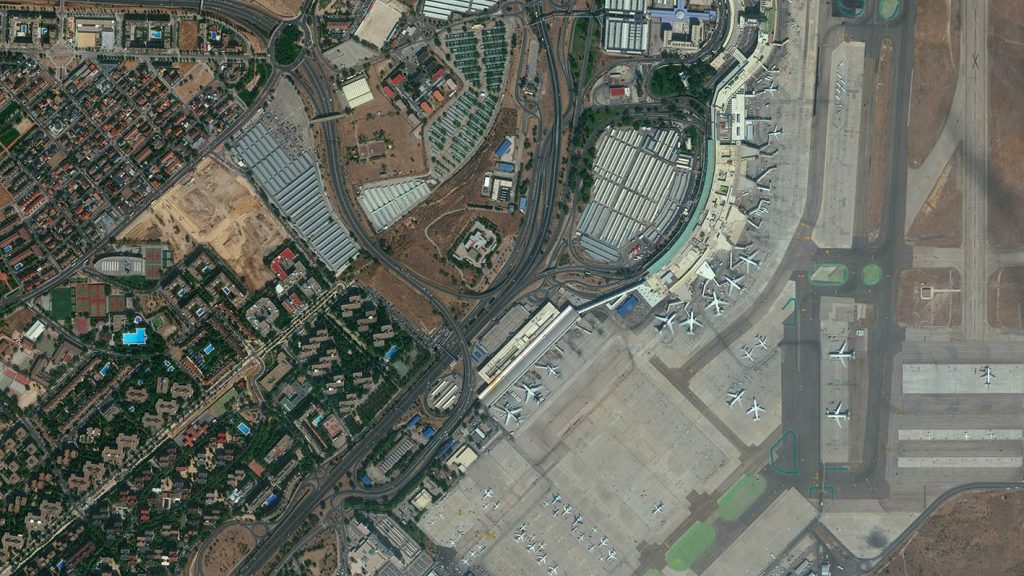 Madrid-Barajas Airport | Madrid, Spain © European Space Imaging
9. Integration
As with aerial data, satellite imagery can also be integrated into programs using artificial intelligence to automatically extract and classify features and thereby streamline workflows. See how satellite imagery integrates into automated detection solutions for Energy Industry. The amount of imagery collected over time by satellites compared to aerial can actually offer increased training data for machine learning programs.
10. Historical Data
With billions of square kilometres in the European Space Imaging Archive dating back to 2000, users can take advantage of historical data to model predictive analytics that are incredibly useful for trend analysis, anomaly detection at a mass scale and profitability estimates.
Learn more about how satellite imagery can complement aerial imagery in your current projects.
Who sells satellite data?
Through their ground station, located at the German Aerospace Centre near Munich, European Space Imaging offers tailored satellite tasking solutions utilising Maxar's WorldView Constellation, the world's highest resolution commercial satellites. Their long history dating back to the beginning of Very High Resolution (VHR) satellite imagery has built a diverse set of users and earned trust within the remote sensing industry. The ongoing service European Space Imaging has with major EU programmes as well as smaller commercial and non-profit projects shows a level of commitment and expertise in a wide range of mapping projects.
Very High Resolution satellite imagery offers a competitively priced alternative to aerial imagery thus enabling improved decision making, allowing more efficient business operations, and enhancing a variety of applications for customers in the civil government, defence and intelligence, agriculture and forestry, energy, mining, and global development sectors.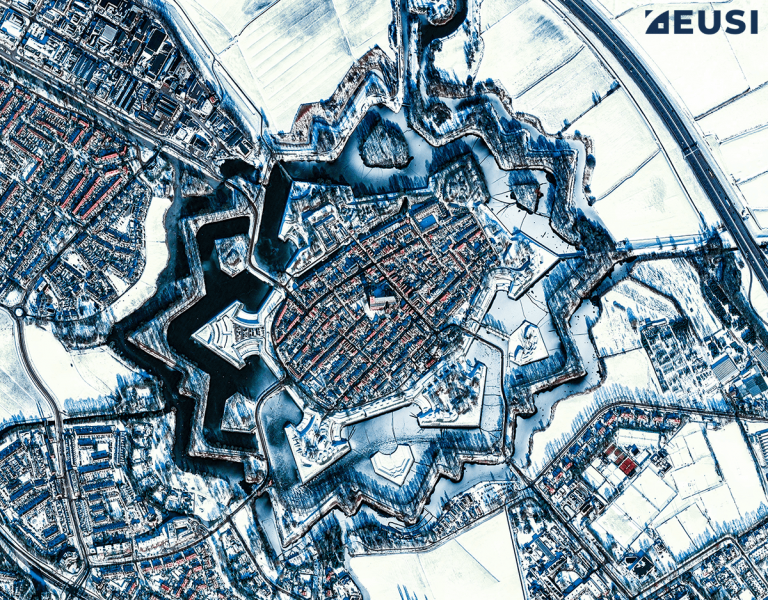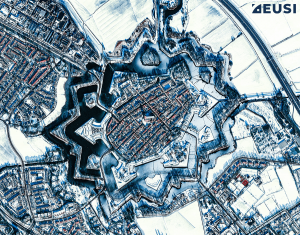 Star forts are not only perfect examples of effective military engineering; they are also beautiful. Let's join us on a fascinating journey through architecture and history – from space. All satellite images in this article were collected by WorldView-3, WorldView-2 or GeoEye-1 at 30–50 cm resolution.
Read More »